October 13, 2014
Smoking Behind 14 Million Major Medical Conditions
the Psychiatry Advisor take:
Smoking contributes to some 14 million medical conditions, according to a new analysis.
Brian L. Rostron, MD, PhD, of the FDA's Center for Tobacco Products, and colleagues made the assessment based on self-reporting by Americans. In 2009, about seven million Americans reported almost 11 million major medical conditions caused by smoking.
However, when ailments that people didn't know they had or reported were factored in, the number rises to 14 million medical conditions, the researchers reported in JAMA.
Their determination was based on a combination of 2009 U.S. census data on smoking prevalence, as well as data from the National Health Interview survey (2006 through 2012) and National Health and National Examination Survey (2007 through 2010).
The largest cause of illness related to smoking in the the U.S. chronic obstructive pulmonary disease (emphysema) with an estimated 7.5 million cases attributable to smoking. However, this this number is 70% higher than the estimated cases based on self-reported data.
Smoking is "continuing to be a problem." Rostron told Reuters. "Even if people are former smokers, they have lasting lung damage."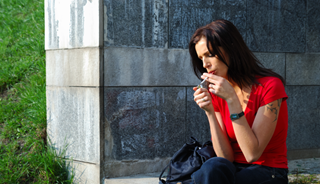 Study: Smoking Behind 14 Million Major Medical Conditions
Cigarette smoking has been found to harm nearly every bodily organ and is a leading cause of preventable disease, but current estimates of smoking-attributable morbidity by condition for the United States are generally unavailable. The objective of the study is to estimate the burden of major medical conditions attributable to cigarette smoking in the United States.
We estimate that U.S. adults have had approximately 14 million major medical conditions that were attributable to smoking.
Sign Up for Free e-newsletters