March 24, 2015
School Policies Influence Students' Marijuana Use
the Psychiatry Advisor take:
Suspending teenagers from school for using marijuana increases the likelihood that their classmates will use the drug, according to a study published in the American Journal of Public Health.
The results of the study indicated that requiring counseling for teens using marijuana was more effective for reducing drug use.
The study looked at drug policies in schools in Washington State and Australia. The researchers compared the policies to see how they affected marijuana use among students. They surveyed over 3,200 seventh and ninth graders as well as almost 200 school administrators in 2002 and 2003. The researchers asked students about their use of marijuana, alcohol, and cigarettes. They were also asked about their school's drug policies.
The students attending schools that suspended them for using illegal drugs were 1.6 times more likely to use marijuana than students in schools without these policies. This effect was present among all students, not just those who were suspended for drug use.
Conversely, the results indicated that in schools with policies of referring students who used marijuana to a counselor, students were nearly 50% less likely to use the drug.
Other drug-use policies, including sending them to educational programs, expelling them, or calling law enforcement, had no significant effect on students' marijuana use.
The researchers suggest that more schools adopt policies that focus on counseling and educating students who use marijuana to help reduce rates of drug use.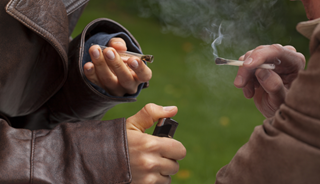 School Policies Influence Students' Marijuana Use
New research has found that suspending teens from school for using marijuana is likely to lead to more marijuana use among their classmates.
The study, conducted by researchers at the University of Washington and in Australia, found that counseling was a more effective means of combating marijuana use.
The researchers also found that, while enforcing anti-drug policies is a key factor in whether teens use marijuana, the way schools respond to those who violate those policies matters greatly.
The new study compared drug policies at schools in Washington State and Victoria, Australia, to determine how they affected marijuana use by students.
Sign Up for Free e-newsletters
Check out what's trending