June 08, 2014
Patient Engagement Yields Better Success in Tobacco Cessation
the Psychiatry Advisor take:
Although the United States has made significant progress in tobacco cessation efforts since the Surgeon General's first report on the harmful health effects of cigarette smoking in the early 1960s, disparities in which segments of the population are reaping the most benefits exist, according to researchers.
Judith J. Prochaska, PhD, MD, of the Stanford Prevention Research Center at Stanford University in California, noted that smoking is increasingly concentrated among poor, less educated individuals and those with psychiatric and addiction comorbidities in a recent issue of the Journal of the American Medical Association.
However, access to tobacco cessation medication and treatment is becoming more widely available under the Affordable Care Act, which requires health insurance plans to cover tobacco treatment. And clinicians must engage patients in efforts to quit smoking in order to "maximize this opportunity," Prochaska said.
In a study published in the most recent JAMA, Cunningham et al found that patients with low levels of engagement in their own healthcare are often not counseled about tobacco cessation and are less likely to quit than their engaged counterparts. But if counseled by a clinician, as many as 60% of low engagement patients attempted to quit.
"[L]ack of patient engagement should not be presumed to mean unwillingness to make important health changes such as quitting smoking," Prochaska wrote. "[D]ecades of research indicate clinicians can have an impotant impact, doubling hte likelihood of their patients' achieving long-term abstinence."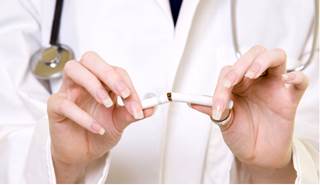 Patient Engagement Yields Better Success in Tobacco Cessation
This year marked the 50th anniversary of the Surgeon General's 1964 report on the health consequences of smoking. Tobacco use is causally linked to diseases of nearly all bodily organs, overall deficits in health, and considerable medical costs. Annually, 480 000 deaths in the United States are attributed to tobacco, with millions more living with smoking-attributable diseases.
Sign Up for Free e-newsletters
Check out what's trending