October 27, 2015
Legitimate Use of Opioids By Teens Can Lead to Abuse
the Psychiatry Advisor take:
Teens who use opioid painkillers for medical purposes are more likely to abuse them when they are older than teens who never received an opioid prescription.
Richard Miech, of the University of Michigan Institute for Social Research in Ann Arbor, and colleagues examined data from more than 6,200 12th grade students as part of the Monitoring the Future study who were followed until they were between 19 and 23 years old. They were asked if they had abused opioids in the prior year.
Interestingly, they found that those who had misused opioids in their teens were less likely to abuse them later on than those who had little or no history of illegal drug use and disapproved of drug abuse, the researchers reported in the journal Pediatrics. One of the reasons why those who had no illegal drug use in adolescence were more likely to abuse later on, according the researchers, is that the opioids may be their first experience with an addictive substance.
In addition, the study also found that those who have a legitimate opioid script in their teen years are one-third more likely to abuse the drugs in their 20s than those who never had a prescription.
Researchers also noted the findings are particularly important given that the FDA recently approved the use of the common prescription painkiller OxyContin (oxycodone) for children as young as 11 years old.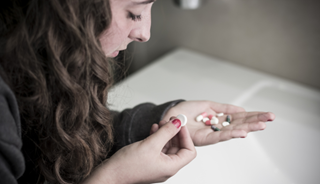 High school students who legitimately use an opioid are one-third more likely to abuse the drug by age 23 than those with no prescription.
Researchers have discovered that high school students who legitimately use an opioid prescription are one-third more likely to abuse the drug by age 23 than those with no history of the prescription.
University of Michigan investigators found teens abuse OxyContin, Vicodin and other prescription pain relievers to get high, relax, or feel good after leaving high school. This happens despite adolescents' strong disapproval of marijuana use, researchers say.
Researchers believe the findings are timely as the U.S. Food and Drug Administration has recently decided to approve use of OxyContin for children ages 11 to 16.
Sign Up for Free e-newsletters