May 04, 2015
Mixing Energy Drinks, Alcohol Ups Risk of Teen Drinking Problems
the Psychiatry Advisor take:
Teens that have mixed energy drinks with alcoholic beverages are much more likely to develop an alcohol-use disorder than peers who have sampled alcohol, but not mixed with an energy drink.
James D. Sargent, MD, of the Dartmouth Medical School, Hanover, N.H., and colleagues examined a sample of more than 3,300 adolescents and young adults between the ages of 15 and 23 years old. Near one in 10 of those between 15 and 17 years old — 9.7% — had an energy drink mixed with alcohol.
Further analysis determined that group had much higher odds of binge drinking, as well as alcohol-use disorder, they reported in the Journal of Pediatrics. Further, 17% met criteria for binge drinking. And alcohol and energy drink use increased with age.
The findings "highlight that mixed use of alcohol and energy drinks may signal the development of abusive drinking behaviors among adolescents," first author Jennifer A. Emond, PhD, also of Dartmouth, said in a statement. "Abusive alcohol use among adolescents is a dangerous behavior that can lead to injury, chronic alcohol use and abuse, and even death."
The researchers said additional studies should examine whether advertising of energy drinks influences their use in adolescents, as well as whether this promotes mixing them with alcohol.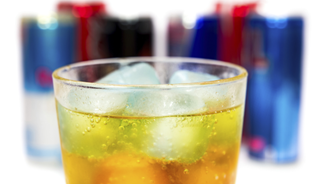 Mixing Energy Drinks, Alcohol Ups Risk of Teen Drinking Problems
A new study finds that teens who mix alcohol with energy drinks are four times more likely to have an alcohol disorder than teens who have tried alcohol but never mixed it with an energy drink.Dartmouth researchers published the study in the Journal of Pediatrics.
Several studies have discovered a link between consuming alcohol mixed with energy drinks and the increased rates of negative outcomes while drinking, including binge drinking.
However, most studies of these studies have been conducted among undergraduate college students, not high school students.
Sign Up for Free e-newsletters