August 26, 2014
Medical Marijuana Laws May Stem Opioid Painkiller Deaths
the Psychiatry Advisor take:
States that have legalized marijuana for medicinal purposes are seeing an unforeseen benefit from enacting the legislation: A decline in deaths from opioid painkiller abuse, compared to states that have no such laws on the books.
Marcus A. Bachhuber, MD, of the Philadelphia Veterans Affairs Medical Center and the University of Pennsylvania, and colleagues investigated where there was a relationship between a state having medical marijuana laws and opioid overdose mortality.
Twenty-three states currently have laws permitting cannabis for medical use, with legislation pending in another three states.
In the 13 states that passed laws allowing medical marijuana between 1999 and 2010, nearly 25% fewer people die from opioid overdoses annually (95% CI: −37.5% to −9.5%; P=0.003) compared to states without such legislation, the researchers reported in JAMA Internal Medicine.
In addition, the association between medical cannabis laws and opioid painkiller overdose mortality in each year after implementation of the law showed that such laws were associated with a lower rate of overdose mortality that generally strengthened over time: year 1 (−19.9%), year 2 (−25.2%), year 3 (−23.6%), year 4 (−20.2%), year 5 (−33.7%), and year 6 (−33.3%).
"Medical cannabis laws are associated with significantly lower state-level opioid overdose mortality rates," the researchers concluded. "Further investigation is required to determine how medical cannabis laws may interact with policies aimed at preventing opioid analgesic overdose."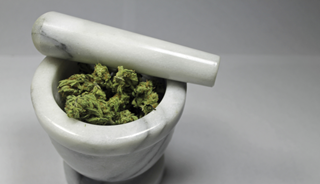 Medical Marijuana Laws May Stem Painkiller Overdose Deaths
Opioid analgesic overdose mortality continues to rise in the United States, driven by increases in prescribing for chronic pain. Because chronic pain is a major indication for medical cannabis, laws that establish access to medical cannabis may change overdose mortality related to opioid analgesics in states that have enacted them.
The objective of the study is to determine the association between the presence of state medical cannabis laws and opioid analgesic overdose mortality. A time-series analysis was conducted of medical cannabis laws and state-level death certificate data in the United States from 1999 to 2010; all 50 states were included.
Sign Up for Free e-newsletters