June 16, 2015
Medical Marijuana Laws Don't Increase Cannabis Use Among Adolescents
the Psychiatry Advisor take:
Although almost half of all states have legalized the use of marijuana for medicinal purposes, a large study that included more than one million adolescents found that such legalization has not led to a rise in its recreational use among teenagers.
Since 1996, 23 states and the District of Columbia have approved the use of medical marijuana. Although use of cannabis is restricted in those states, it has caused some to worry that the policy would encourage young people to use it for non-medical purposes.
Deborah Hasin, PhD, a professor of epidemiology (in psychiatry) at Columbia University Medical Center in New York City, and colleagues analyzed data between 1991 and 2014 from a national study known as Monitoring the Future, which surveyed students between the ages of 13 and 18 who were in the 8th, 10th, and 12th grades.
The study examines the behaviors, attitudes, and values of American secondary school and college students, as well as young adults. About 50,000 of them are polled each year.
Although marijuana use was higher among teenagers in states prior to approving medical marijuana laws than states that have never enacted such legislation, use of marijuana did not increase among adolescents after the laws were passed, the researchers reported in the Lancet Psychiatry.
Despite the findings, Hasin cautioned, "Because early adolescent use of marijuana can lead to many long-term harmful outcomes, identifying the factors that actually play a role in adolescent use should be a high research priority."
In a commentary to the study, Kevin Hill, MD, a psychiatrist and director of Substance Abuse Consultation Service at McLean in Belmont, Mass., wrote, "The growing body of research that includes this study suggests that medical marijuana laws do not increase adolescent use, and future decisions that states make about whether or not to enact medical marijuana laws should be at least partly guided by this evidence."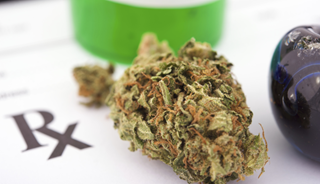 Medical marijuana laws don't appear to lead to an increase in pot use among teens.
Legalizing the medical use of cannabis has not led to a surge in the numbers of adolescents using it in the USA, according to new research that surprised its authors and will encourage those hoping for relaxation of the law elsewhere.
Analyzing data from a national study called Monitoring the Future, which collects information from 50,000 pupils aged 13 to 18 in the 8th, 10th and 12th grade (years 9, 11 and 13 in Britain) every year, they found there had not been a rise even after taking into account individual, school and state-level factors that can affect marijuana use (such as age, ethnicity, public or private school and proportion of each state's population that was male or white).
Sign Up for Free e-newsletters