November 11, 2014
Marijuana Use Shrinks Key Part of Brain
the Psychiatry Advisor take:
Chronic marijuana can lead shrinking in an important part of the brain, though the negative impact of that may be compensated, in part, by increasing connectivity between neurons.
Francesca M. Filbey, PhD, of the Center for Brain Health at the University of Texas, Dallas, and colleagues studied 48 marijuana users aged between 20 and 36. The participants used cannabis, on average, three times per day.
Brain scans showed that the marijuana smokers had smaller volume in a part of the brain known as the orbitofrontal cortex, which is responsible for decision-making. However, they also observed more "wiring" between brain neurons, an indication the brain may be compensating for a loss in gray matter, the researchers reported in the Proceedings of the National Academy of Sciences.
These extra connections may explain why a regular marijuana smoker may not appear to suffer consequences, despite losing brain matter, according to Filbey.
However, the continual increase in connectivity is not permanent. After six to eight years of regular cannabis use, those increases declined. But the added connectivity that had developed remained.
The study does leave several questions unanswered. Among them is whether the size of the orbitofrontal cortex returns to normal after discontinuation of marijuana, and whether the effect of cannabis on the brain is the same in occasional marijuana smokers.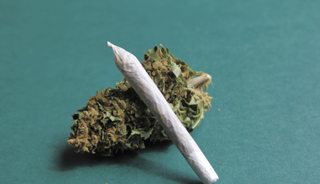 Marijuana Use Shrinks Key Part of Brain
Regular cannabis use shrinks the brain but increases the complexity of its wiring, a study has found. The loss of brain volume is balanced to some extent by more connections between neurons, scientists discovered.
The study of cannabis users through brain scans is one of the first to investigate the drug's long-term impact.
The team studied 48 adult cannabis users aged 20 to 36 who were compared with a group of matched non-users. On average, the cannabis users took the drug three times a day.
Sign Up for Free e-newsletters