October 08, 2014
Long-Term Marijuana Use Tied to Schizophrenia
the Psychiatry Advisor take:
Long-term smoking of marijuana doubles the risk of developing psychoses, according to a new paper.
Wayne Hall, PhD, of the University of Queensland Center for Youth Substance Abuse Research, Herston, Australia, compared a review he conducted in 1993 with new evidence and interpretation of the same health outcomes in 2013.
Adolescents who regularly use cannabis are twice as likely to suffer from cognitive impairment and psychoses in adulthood, he reported in the journal Addiction.
Since 1993, studies have shown "consistent associations…between regular (especially daily) cannabis use and adverse health and psychosocial outcomes, relationships that have often shown dose–response relationships, and that have persisted after statistical adjustment for plausible confounding factors," Hall writes.
Hall added that regular cannabis use is associated with lower educational attain compared with peers who do not use, s well as higher likelihood of using other illicit drugs. Marijuana users are also twice as likely to attempt suicide.
Regarding the cognitive impairment associated with smoking marijuana, Hall added that whether it can be reversed is unclear.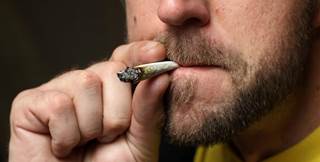 Long-Term Marijuana Use Tied to Schizophrenia
During the past half-century, recreational cannabis use has become almost as common as tobacco use among adolescents and young adults. Since its use was first reported more than 40 years ago in the United States, recreational cannabis use has spread globally to other developed countries and, more recently, low- and middle-income countries.
Regular cannabis use in adolescence approximately doubles the risks of early school-leaving and of cognitive impairment and psychoses in adulthood. Regular cannabis use in adolescence is also associated strongly with the use of other illicit drugs.
Sign Up for Free e-newsletters
Check out what's trending