October 24, 2014
IQ Scores Unaffected by Occasional Marijuana Use
the Psychiatry Advisor take:
Occasional marijuana use does not lower IQ scores in adolescents but heavier use resulted in lower in-school examination scores, according to a report published in Medical Daily.
Lead researcher Claire Mokrysz, PhD student, of University College London and colleagues found that their study suggested that cannabis may not have a detrimental effect on cognition, after accounting for related factors such as cigarette and alcohol use.
The researchers used data from the Avon Longitudinal Study of Parents and Children (ALSPAC), in which children born in the Bristol area of the U.K. in 1991 and 1992 took IQ tests at the ages of 18 and 25 years. The researchers excluded certain children for reasons including head injury, giving them a sample of 2,235 children.
After adjusting for other high-risk behaviors such as alcohol, tobacco, and illicit drug use, the researchers found no link between casual marijuana use and lower IQ scores at the age of 15 years. However, children who used marijuana heavily (defined as 50 or more times) by age 15 scored 3% lower on compulsory school examinations compared with children who did not indicated heavy marijuana use.
Previous studies have indicated a link between cannabis use and poor cognitive performance. The researchers believe these results may have resulted from the lifestyle, behavior, and personal history that is often associated with cannabis use rather than the cannabis use itself.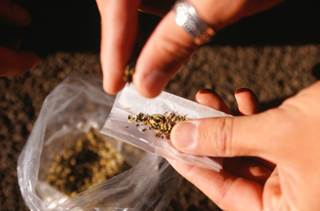 IQ Scores Unaffected by Occasional Marijuana Use
Cannabis critics and cannabis activists are constantly at odds over whether or not marijuana use can lead to cognitive declines in attention, memory, and learning. A recent study presented at the annual congress of the European College of Neuropsychopharmacology (ECNP) in Berlin has revealed that "casual" marijuana use does not lead to lower IQ scores. However, "heavy" marijuana use did lead to poorer in-school examination scores.
"Our findings suggest cannabis may not have a detrimental effect on cognition, once we account for other related factors, particularly cigarette and alcohol use," Claire Mokrysz, lead researcher from University College London, said in a statement. "This may suggest that previous research findings showing poorer cognitive performance in cannabis users may have resulted from the lifestyle, behavior, and personal history typically associated with cannabis use, rather than cannabis use itself."
Sign Up for Free e-newsletters