July 28, 2014
Internet Addiction Associated with Psychiatric Comorbidities
the Psychiatry Advisor take:
Although internet addiction is not listed in the DSM-5, many psychiatrists and mental health professionals say it is a very real problem.
"Internet addicts suffer from emotional problems such as depression and anxiety-related disorders and often use the fantasy world of the Internet to psychologically escape unpleasant feelings or stressful situations," according to the Center for Internet Addiction Recovery.
New research backs up those claims and indicates that those who compulsively surf the web tend to also have associated psychiatric comorbidities.
Asian researchers sought to find out just how pervasive the relationship is between internet addiction and psychiatric comorbidities using meta-analyses. Study inclusion was based on those which included assessment by standardized questionnaires and availability of adequate information to measure the effect size. Random-effects models were used to calculate the aggregate prevalence and the pooled odds ratios (ORs).
Roger C. Ho, DPM, Assistant Professor and Associate Consultant at the Department of Psychological Medicine, National University of Singapore, and team examined eight studies with a total of 1,641 patients who had internet addiction, as well as 11,210 control subjects.
Results, published in BMC Psychiatry, indicate significant associations between internet addiction and alcohol abuse (OR=3.05, 95% CI=2.14-4.37, Z=6.12, P<0.001), attention deficit and hyperactivity (OR = 2.85, 95% CI = 2.15-3.77, z = 7.27, P< 0.001), depression (OR = 2.77, 95% CI = 2.04-3.75, z = 6.55, P< 0.001) and anxiety (OR = 2.70, 95% CI = 1.46-4.97, z = 3.18, P= 0.001).
"[Interent addiction] is significantly associated with alcohol abuse, attention deficit and hyperactivity, depression and anxiety," the researchers concluded.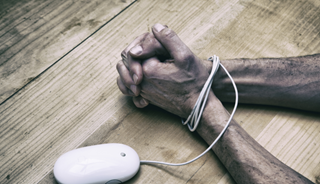 Internet Addiction Associated with Psychiatric Comorbidities
This study evaluates the association between internet addiction (IA) and psychiatric co-morbidity in the literature. Methods Meta-analyses were conducted on cross-sectional, case-control and cohort studies which examined the relationship between IA and psychiatric co-morbidity.
Sign Up for Free e-newsletters