August 17, 2014
Immigration May Increase Smoking Prevalence Among Females
the Psychiatry Advisor take:
Smoking rates among Asian and Hispanic female immigrants tend to increase the longer they have spent in the United States, according to new research.
Bridget Gorman, PhD, chair of the Department of Sociology of Rice University in Texas, and colleagues found the increase in smoking among women may be due to differences in smoking stigma that exist for women in Latin America and Asia.
That stigma is much less in the United States. As a result, when gender differences in smoking between the native and foreign born are compared, gender gaps tend to be much larger among migrant populations living in the United States.
Overall, however, Asian immigrant men are four times more likely to smoke than Asian women (30.4% vs. 7.1%), the researchers reported in Social Science & Medicine. Among Hispanic immigrants, men are twice as likely to smoke (29.5% vs. 12.6%) than women.
There "tends to be an uptick in unhealthy behaviors like smoking after migration, patterns differ across ethnic groups and between men and women," Gorman said. "In particular, women's smoking behavior tends to increase more after migration to the U.S. than men."
Immigrants who became proficient in English and gained U.S. citizenship were less likely to smoke, regardless of time spent in the country. Gorman attributed this to either less stress as the immigrants became more acclimated to their new country, or that English proficiency and citizenship are linked to higher socio-economic status, which itself is associated with lower incidence of smoking.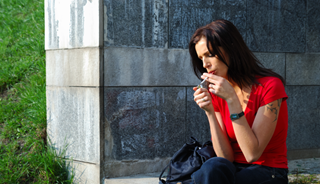 Immigration May Result in Increased Smoking Among Females
Immigration to the United States may result in increased smoking in Hispanic and Asian women, according to new research from sociologists at Rice University, Duke University and the University of Southern California.
The study, "Gender, Acculturation and Smoking Behavior Among U.S. Asian and Latino Immigrants," examines smoking prevalence and frequency among these populations.
Sign Up for Free e-newsletters
Check out what's trending