December 17, 2014
E-Cigarettes, Nicotine Patches Equally Effective for Quitting Smoking
the Psychiatry Advisor take:
E-cigarettes can help smokers quit, and their efficacy appears comparable to nicotine patches.
There have been mixed results concerning e-cigarettes. A study published in May found that e-cigarettes do not reduce the use of conventional cigarettes, but another study published the same month found the opposite. In a survey of over 5,800 smokers, those using e-cigarettes to help them quit were 60% more likely to succeed compared with those who used traditional nicotine replacement therapies, according to a study published in the journal Addiction.
Now, a Cochrane Review based on two randomized trials and 11 observational studies analyzed information from 662 current smokers. The researchers found that 9% of the smokers who used e-cigarettes stopped smoking for up to one year, and 4% of those who used nicotine-free e-cigarettes stopped for up to one year.
The researchers also looked at smokers using e-cigarettes who did not give up smoking completely but had reduced the number of cigarettes they smoked. They found that 36% cut the amount of cigarettes in half, and 28% with nicotine-free e-cigarettes did the same.
In two of the studies, e-cigarettes were compared with nicotine patches. Results showed that they were equally effective at reducing smoking.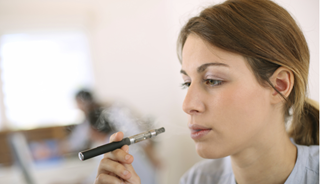 E-cigarettes, Nicotine Patches Equally Effective for Quitting Smoking
The issue of whether electronic cigarettes are a successful smoking cessation aid has been one of the key health debates of 2014. Now, a new Cochrane review finds evidence that e-cigarettes can help smokers reduce or stop smoking.
Although many smokers want to quit, few successfully give up in the long term. Nicotine patches and gum are standard aids for smoking cessation, but recently, e-cigarettes have significantly overtaken these products in popularity among smokers.
However, this trend has concerned some researchers, who have reported mixed results as to whether e-cigarettes promote or reduce smoking behaviors.
Sign Up for Free e-newsletters