December 15, 2014
E-Cigarettes Less Addictive Than Tobacco Cigarettes
the Psychiatry Advisor take:
A new study has found that e-cigarettes are less addictive than conventional cigarettes.
In addition to being less addictive, e-cigarettes are less toxic than conventional cigarettes, Jonathan Foulds, PhD, Pennsylvania State University College of Medicine in Hershey, and colleagues reported in the journal Nicotine & Tobacco Research.
The researchers created a 158-item online survey that was completed by 3,609 participants who formerly smoked cigarettes and now use e-cigarettes. The survey included both the Penn State Cigarette Dependence Index and the Penn State Electronic Cigarette Dependence Index.
Their responses indicated that participants had much lower dependence on e-cigarettes compared with conventional cigarettes. Those who used e-cigarettes with higher nicotine concentrations and those who used e-cigarettes for longer periods had higher dependences. However, even those with higher e-cigarette dependence still had lower e-cigarette dependence scores than cigarette dependence scores.
Although these results indicate that e-cigarettes are less addictive than traditional cigarettes, the researchers noted that e-cigarettes have not been regulated by the FDA for those attempting to quit smoking.
"It has the potential to do good and help a lot of people quit, but it also has the potential to do harm," said Foulds. "Continuing to smoke and use e-cigarettes may not reduce health risks. Kids who have never smoked might begin nicotine addiction with e-cigarettes."
He added more research is still needed to determine the long-term safety and effects of e-cigarette use.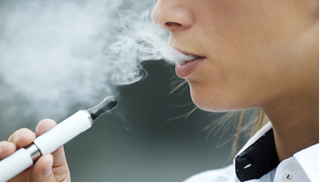 E-Cigarettes Less Addictive Than Tobacco Cigarettes
Are e-cigarettes effective as a smoking cessation aid? This is a controversial question. Some studies claim the devices help smokers quit, while others suggest e-cigarettes may encourage tobacco smoking and may even be a gateway to illicit drug use. A new study adds to the debate, suggesting that e-cigarettes are much less addictive than conventional cigarettes.
The research team -- including Jonathan Foulds, professor of public health sciences and psychiatry at the College of Medicine at Pennsylvania State University -- published their findings in the journal Nicotine & Tobacco Research.
Sign Up for Free e-newsletters