January 12, 2015
Blood Test Could Predict Most Effective Smoking Cessation Aid
the Psychiatry Advisor take:
A blood test that measures how rapidly a person breaks down nicotine could help determine which smoking cessation aid works best for them.
Caryn Lerman, PhD, of the Perelman School of Medicine at the University of Pennsylvania in Philadelphia, and colleagues recruited a 1,246 smokers who were looking to quit.
The researchers then divided the participants into two groups: 662 were determined to be "slow metabolizers," while the remaining 584 were considered "normal metabolizers." The classification was made through blood tests by determining the ratio between two metabolites that are derived from nicotine during smoking.
Participants were then randomized to 11 weeks of treatment with either a nicotine patch and placebo pill, varenicline (Chantix) and a placebo patch, or both a placebo patch and pill. Psychological counseling was also provided. Smoking behavior was measured at the end of treatment, as well as six and 12 months later.
Among the normal metabolizers, about 40% of those on varenicline had not relapsed, compared with 22% of those on the patch. And among the slow metabolizers, the effectiveness of the treatments was nearly the same, the researchers reported in The Lancet Respiratory Medicine.
However, more side effects from varenicline were seen in the slow metabolizer group. The researchers say this suggests that group is better off using the patch to quit smoking rather than medication.
"This is a much-needed, genetically-informed biomarker that could be translated into clinical practice," Lerman said in a statement. "Matching a treatment choice based on the rate at which smokers metabolize nicotine could be a viable strategy to help guide choices for smokers and ultimately improve quit rates."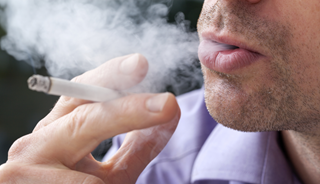 Blood Test Could Predict Most Effective Smoking Cessation Aid
A blood test could help people choose a stop-smoking strategy that would give them the best chance of quitting, research in a Lancet journal suggests.
Studies show as many as 60% of people who try to give up start smoking again in the first week. But researchers argue measuring how quickly a person breaks down nicotine could boost the chances of success. Some scientists suggest people who break it down more quickly may crave more cigarettes and in turn find it harder to quit.
Nicotine is one of the most addictive substances in cigarettes — smokers crave more nicotine when their body's levels drop, prompting them to smoke again.
Sign Up for Free e-newsletters