January 23, 2015
Alcohol TV Ads Linked to Underage Drinking
the Psychiatry Advisor take:
Viewing television advertisements for alcohol is associated with the onset of drinking and hazardous drinking habits in young people, according to a study published in JAMA Pediatrics.
In 2013, 66.2% of high school students in the United States reported trying alcohol, 32.9% said they had alcohol in the past month, and 20.8% said they had recently participated in binge drinking. The researchers wanted to see if alcohol advertising had any effect on young people's decision to drink.
The study included telephone- and web-based surveys, with the first survey conducted in 2011 and a follow-up in 2013. Originally, 2,541 participants were surveyed, and 1,596 completed the follow-up survey. Participants were aged 15 to 23 years.
The survey included questions about television advertisements for alcohol products that were broadcast during 2010 and 2011. For each participant, the researchers calculated an "alcohol receptivity score" based on whether they had seen an ad, liked it, and correctly identified the brand.
The results indicated that higher alcohol receptivity scores were associated with age of drinking onset, binge drinking, and hazardous drinking. Underage participants were only slightly less likely to have seen the ads: 23.4% of participants aged 15 to 17 years, 22.7% of participants aged 18-20, and 25.6% of participants aged 21 to 23 years.
Among underage drinkers, a significant amount reported dangerous drinking habits. For participants aged 15 to 17 years, 29% reported binge drinking and 18% reported hazardous drinking. For participants aged 18 to 20 years, those numbers were 29% and 19%, respectively.
The results suggest that current standards are inadequate in preventing underage people from seeing alcohol advertisements on television, and that this is contributing to underage drinking.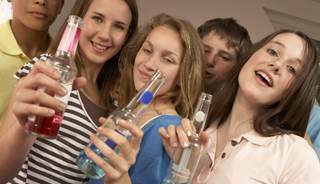 Viewing alcohol ads may contribute to underage drinking.
Although tobacco firms voluntarily ceased advertising
cigarettes
on TV in the late 1960s, the drinks industry has never regulated the television advertising of alcoholic beverages. To what extent does this advertising influence young people's decision to drink? Researchers from the Geisel School of Medicine at Dartmouth in Lebanon, NH, investigate in a new study published in JAMA Pediatrics.
The study background explains that alcohol is the drug most commonly used by young people. In 2013, 66.2% of American high school students reported trying alcohol, with 34.9% using alcohol in the past month and 20.8% reporting recent binge drinking.