October 07, 2014
Role of Mobile Technology in Psychiatry Set to Expand
the Psychiatry Advisor take:
Although technology is not used as extensively in the practice of psychiatry as it is in other medical areas, that is rapidly changing through the rise of mobile health in the treatment of mental conditions.
Given that many people around the world suffering from psychiatric disorders do not have easy face-to-face access with a mental health clinician due to financial or logistical reasons, technology may help to fill this void.
"Stanford's recent Medicine X emerging health technology conference, for instance, featured a panel focused on technology in psychiatric disorders, the critical role of mental health in whole person care, and depression as a co-morbid condition in chronic illness," Steven Chan, MD, a resident physician in psychiatry and human behavior at the University of California, Davis School of Medicine, said in a post on iMedicalApps.
Chan added that the American Telemedicine Association also includes a section on mental health at their annual conference.
He also cites a paper in the 2014 issue of the journal Health Affairs on the global costs to the global economy of psychiatric illnesses. The authors of that paper argue that many mobile apps can help patients to self-care for themselves and that self-care plays a part in addressing the scarcity of access to mental health services in some areas.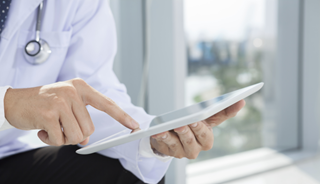 Role of Mobile Technology in Psychiatry Set to Expand
Much of mobile health technology's big splashes have involved creating gadgets that track fitness more effectively or make miniaturized versions of heavy hospital and ICU equipment: electrocardiograms, telemedicine video cameras, thermometers, and pulse oximeters.
But what about psychiatric issues? Psychiatric issues often require face-to-face human contact with a psychiatric provider to provide diagnoses and assessments..
Sign Up for Free e-newsletters
Check out what's trending