January 11, 2016
Racial Discrimination Linked with Worse Mental Health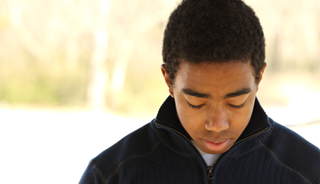 Facing racial discrimination has been shown to increase depression among African Americans in particular.
How people think about their race may affect the degree of influence discrimination has on their health. Another finding in Kwate's study was that participants who denied thinking about their race had the worst outcomes, perhaps because "if people do not acknowledge or name racism as occurring in their lives, they have internalized oppression, and do not recognize it as such," says Kwate. "Individuals who internalize racism may have poorer mental health outcomes because they have less belief in their intrinsic worth, which could be harmful directly or indirectly." They may also be less prepared to cope with inevitable racism and less likely to address it when it occurs.
A 2015 study from Social Psychology Quarterly supports the internalized racism model with its finding that African Americans who evaluated their group more positively had better self-esteem and fewer depressive symptoms, while those with a negative group evaluation had more symptoms of depression.9 The study from the April 2015 Journal of Youth and Adolescence also found that a sense of positivity about one's race mediated the observed association between discrimination and depression, highlighting the usefulness of treatment approaches that target racial pride.3
While more research is needed on coping strategies to address negative health effects of discrimination, "stress reduction techniques and introductions to alternative, active, coping styles–such as confronting and seeking support–are important for individuals currently using passive coping strategies like vigilance," says Himmelstein. "Beyond simply putting the onus on the shoulders of those experiencing discrimination, I also think it is important for bystanders to speak up and confront it when they see it occurring. Research shows that bystander confrontation is one of the most effective ways to reduce prejudice."
English adds that "it is essential that clinicians validate the experiences and worldview of their African American clients and help them to process their experiences of racial discrimination" rather than dismissing, over-scrutinizing or challenging their validity.
References
Hearld KR, Budhwani H, Chavez-Yenter D. Panic attacks in minority Americans: the effects of alcohol abuse, tobacco smoking, and discrimination. Journal of Affective Disorders. 2015; 174:106-12.
Budhwani H, Hearld KR, Chavez-Yenter D. Generalized anxiety disorder in racial and ethnic minorities: a case of nativity and contextual factors. Journal of Affective Disorders. 2015; 175:275-80.
Kogan SM, Yu T, Allen KA, Brody GH. Racial Microstressors, Racial Self-Concept, and Depressive Symptoms Among Male African Americans During the Transition to Adulthood. Journal of Youth and Adolescence. 2015; 44(4): 898-909.
O'Keefe VM, Wingate LR, Cole AB, Hollingsworth DW, Tucker RP. Seemingly Harmless Racial Communications Are Not So Harmless: Racial Microaggressions Lead to Suicidal Ideation by Way of Depression Symptoms. Suicide and Life-threatening Behavior. 2015; 45(5): 567–576.
English D, Lambert SF, Ialongo NS. Longitudinal associations between experienced racial discrimination and depressive symptoms in African American adolescents. Developmental Psychology. 2014; 50(4): 1190-6.
Kwate NO, Goodman MS. Cross-sectional and longitudinal effects of racism on mental health among residents of Black neighborhoods in New York City. American Journal of Public Health. 2015; 105(4): 711-8.
Berger M, Sarnyai Z. More than skin deep': stress neurobiology and mental health consequences of racial discrimination. Stress: The International Journal on the Biology of Stress. 2015; 18(1): 1-10.
Himmelstein MS, Young DM, Sanchez DT, Jackson JS. Vigilance in the discrimination-stress model for Black Americans. Psychology & Health. 2015; 30(3): 253–267.
Hughes M, Kiecolt KJ, Keith VM, Demo DH. Racial Identity and Well-Being among African Americans. Social Psychology Quarterly. 2015; 78(1): 25-48.