Dermatology
Dermatomyositis
Are You Confident of the Diagnosis?
The clinician should be alert for dermatomyositis in the following clinical scenarios:
--in any photosensitive eruption (Figure 1)

--photosensitive eruption in the setting of muscle weakness or weight loss

--photosensitive eruption with dorsa of hands and periungual accentuation

--photosensitive eruption that does not significantly improve by avoiding sun exposure

--pruritic photosensitive eruption

--systemic lupus erythematosus-like photosensitive eruption with negative or low titer or nonspecific pattern of antinuclear antibodies and/or normal or significantly low complement serum levels

--systemic lupus erythematosus-like photosensitive eruption with increased muscle enzymes

--systemic lupus erythematosus-like photosensitive eruption aggravated by anti-malarial therapy or skin reaction to it
Figure 1.
Dermatomyositis may present as a photodermatitis, as manifested by the facial involvement and "V" of the neck onto the chest.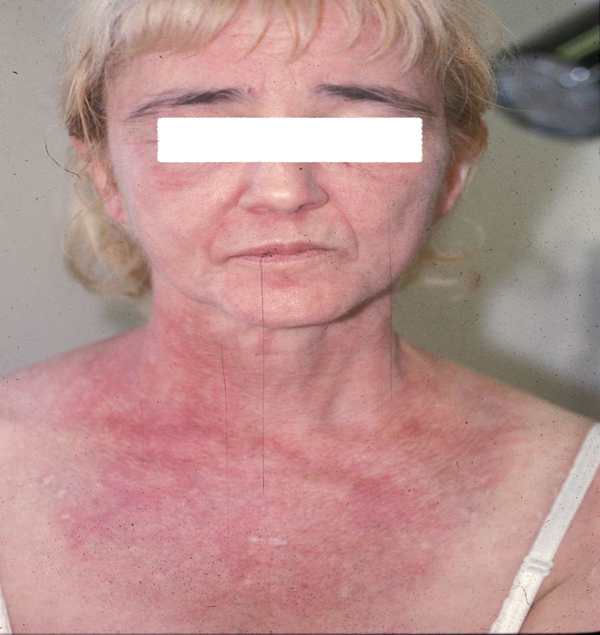 Characteristic findings on physical examination
There are four relatively specific cutaneous signs:
Gottron's papules: erythematous often scaly papules over the dorsal aspects of proximal and distal interphalangeal joints of the hands as well as over the dorsal aspects of the metacarpalphalangeal joints (Figure 2)

Heliotrope periorbital eruption: erythematous/violaceus, often edematous periorbital eruption (Figure 3)

Psoriasiform-scarring scalp dermatitis: scaly erythematous eruption of the scalp with hair follicle "drop out" and well-defined borders on hairline, namely frontal areas. Advanced stages may lead to overt scarring alopecia, often with dyspigmentary changes (Figure 4, Figure 5).

Centripetal flagellate erythema: erythematous edematous linear streaks that originate from erythematous, often poikilodermatous truncal eruption. Lesions mimic dermatographism but they are often reportedly non-pruritic and persistent (Figure 6).
Figure 2.
Gottron's papules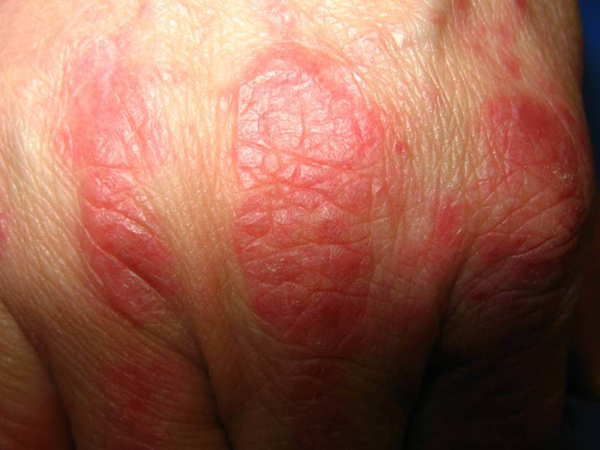 Figure 3.
Heliotrope eruption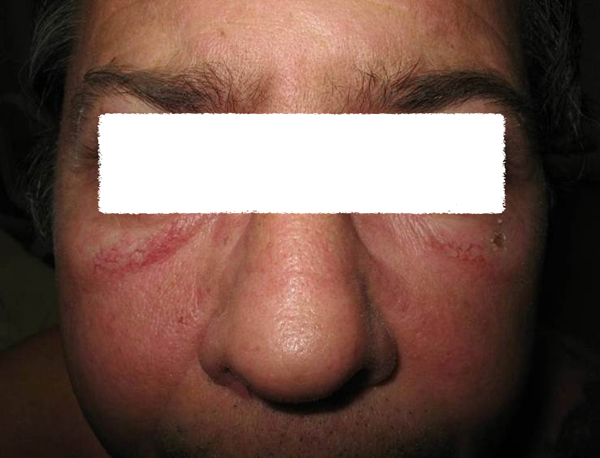 Figure 4.
Psoriasiform scalp dermatitis as seen in dermatomyositis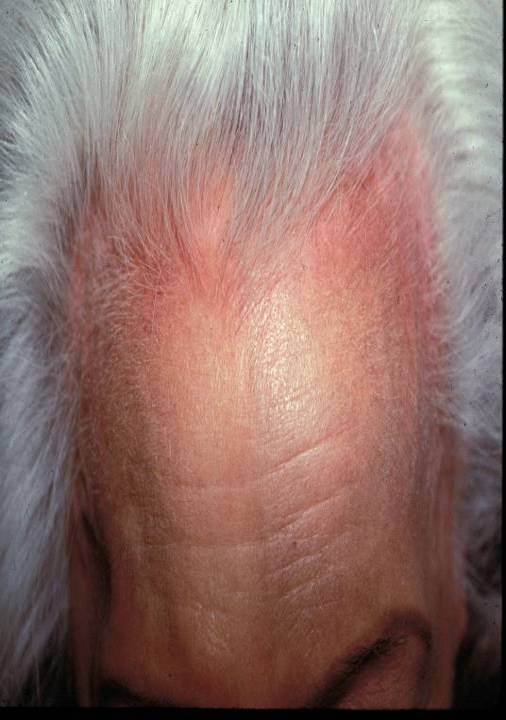 Figure 5.
Psoriasiform scalp dermatitis as seen in dermatomyositis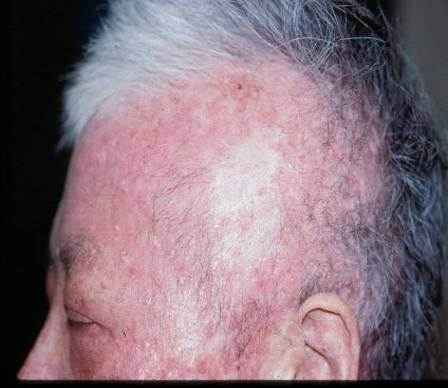 Figure 6.
Centripetal flagellate erythema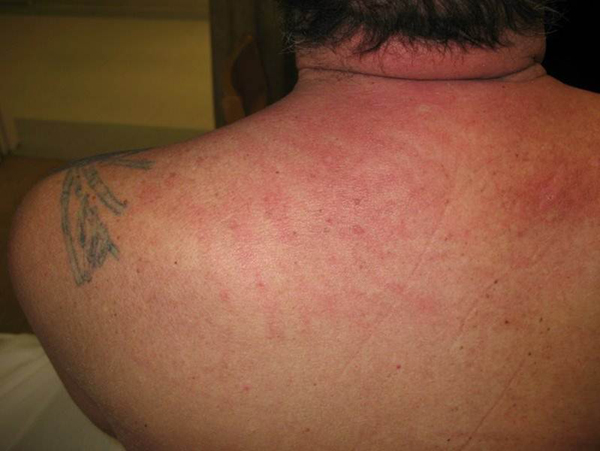 Sensitive cutaneous signs will include periungual telangiectasia (Figure 7, Figure 8). All patients with Gottron's papules and virtually all others with the disease will have them. Cuticular overgrowth and erythema are common also. A photosensitive, erythematous confluent macular eruption, often pruritic, with evolution into poikilodermatosus changes is characteristic (Figure 9).
Figure 7.
Periungual telangiectasia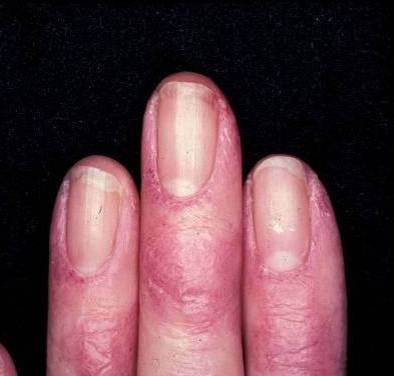 Figure 8.
Dermatoscopic evaluation of periungual telangiectasia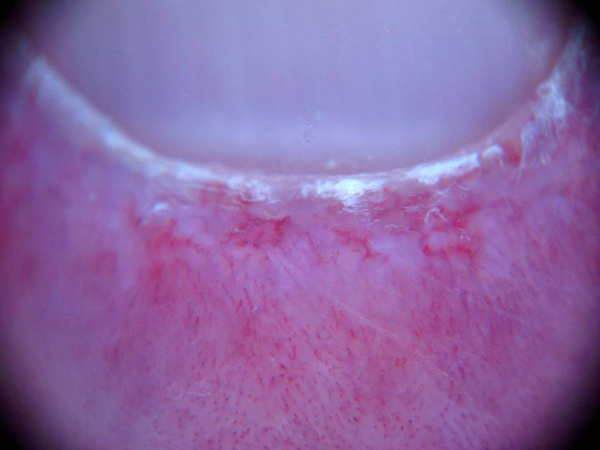 Figure 9.
Poikiloderma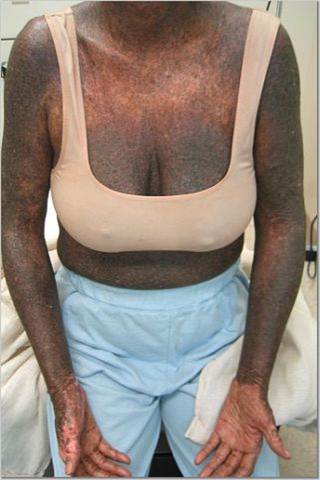 Follicular erythematous accentuation with pityriasis rubra pilaris-like lesions, namely on proximal extremities, are reported. The true so-called "mechanic hands" pattern is not common, and they represent the mirror image of Gottron's papules but on the palmar surfaces. The so called "Gottron's sign" is characterized by the erythematous-violaceus patches over the elbows and knees.
Dermatomyositis encompasses the only virtually photosenstive connective tissue disease that is truly pruritic and that may also present with true erythroderma. Among the connective tissue diseases, dermatomyositis, namely the juvenile variant, may present with dermal, subcutaneous and fascial/muscular dystrophic calcification. Paraneoplastic dermatomyositis often presents with an explosive onset and rapidly progressive refractory disease that not uncommonly complicates with ulcerative cutaneous lesions and erythroderma. Muscle weakness is mostly in proximal extremities and synovitis of small joints is also present.
Expected results of diagnostic studies
HISTOPATHOLOGY
Histopathology often shows a subtle lymphocytic vacuolar interface dermatitis (Figure 10), associated with mild hyperorthokeratosis, very few dyskeratotic cells, epidermal atrophy, and significantly increased upper dermal mucin (highlighted better with colloidal iron and Alcian blue stains; Figure 11, Figure 12) that is disproportionally high for the relatively low degree of inflammation. No significant alteration of the basement membrane is noted, even with periodic acid–Schiff (PAS) stain (Figure 13). There is virtual absence of deep dermal or subcutaneous perivascular or periadnexal lymphocytic infiltrate.
Figure 10.
Dermatomyositis (H&E stain). Interface lyphocytic infiltrate
Figure 11.
Dermatomyositis(colloidal iron stain)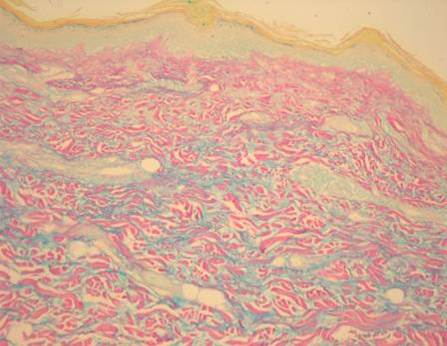 Figure 12.
Gottron's papule: lesional site with the best immunopathologic diagnostic yield. (Collodial iron)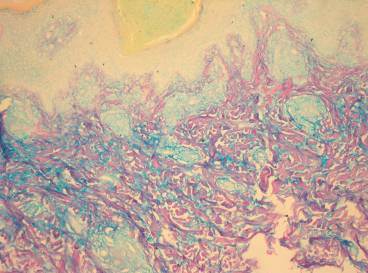 Figure 13.
Dermatomyositis (PAS stain) showing thickening around dermal blood vessels.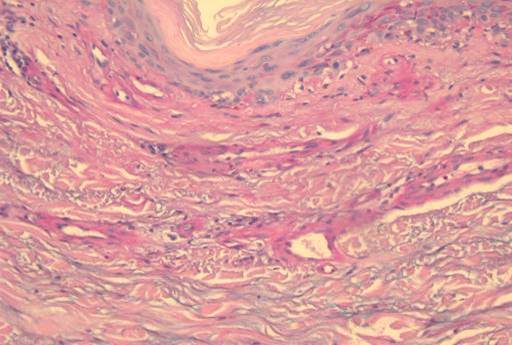 All the aforementioned histologic attributes are more pronounced in acral lesional photoexposed areas, namely in Gottron's papules, making these lesions the preferable type for immunopathologic examination (Figure 12, Figure 14, Figure 15). The presence of significant dyskeratosis, epidermal necrosis, and lymphocytic or polymorphonuclear cell small vessel vasculitis have been associated with underlying neoplasms (paraneoplastic dermatomyositis).
Figure 14.
Gottron's papule: lesional site with the best immunopathologic diagnostic yield (H&E).
Figure 15.
Gottron's papule: lesional site with the best immunopathologic diagnostic yield (H&E, higher power than Figure 14)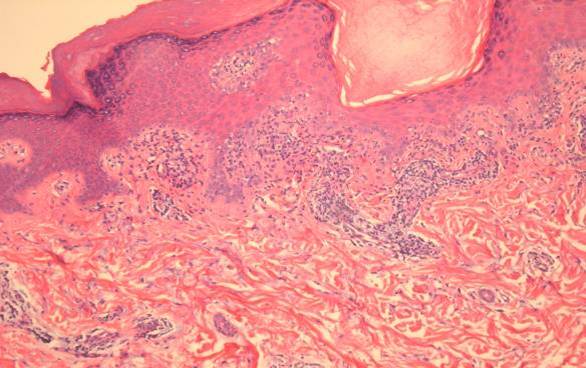 DIRECT IMMUNOFLUORESCENCE
Overall the intensity of the deposition of immunoreactants is weaker than in all forms of lesional cutaneous/systemic lupus erythematosus. Higher than 90% of cutaneous lesional specimens with dermatomyositis will have positive direct immunofluorescence findings. The immunoreactant deposition at the basement membrane zone (BMZ) has a granular pattern and in order of intensity from strongest to weakest is as follow: C5b-9, IgM, C3, IgG, IgA (Figure 16).
Figure 16.
Gottron's papule: lesional site with the best immunopathologic diagnostic yield (IgG/C3).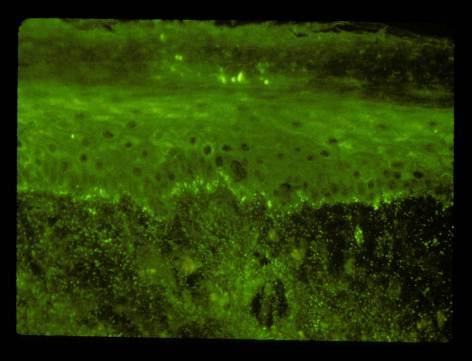 Focal linear and shaggy fibrinogen deposition along the BMZ is also occasionally seen, namely in Gottron's papules. The combination of vascular and BMZ granular deposition of C5b-9 (Figure 17), also known as membrane attack complex (MAC), along with negative dense granular BMZ deposition of IgG (lupus band test) and absence of the fine cytoplasmic dusting/specking throughout the epidermis that characterizes anti-Ro 52 kd pattern has a highly positive predictive value and high specificity for the immunofluorescence diagnosis of dermatomyositis.
Figure 17.
Gottron's papule: lesional site with the best immunopathologic diagnostic yield (C5b-9)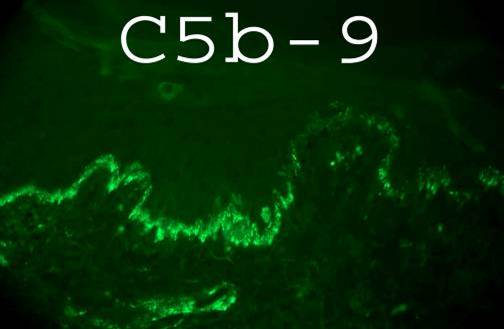 SEROLOGY TESTING
The presence of antinuclear antibodies (ANA) overall ranges from 50% to 70%. It has been reported that the so-called myositis specific antibodies (MSA) and myositis-associated antibodies (MAA) are present in up to 30% and 50%, respectively, of tested patients. Both MSA and MAA are quite specific; however, they are more reliable in defining prognosis based on disease subsets and organ targeting. For example, within the MSAs: anti-MDA5 (CADM-140) characterizes a subset of patients with interstitial lung disease, mucosal involvement, and little or no myositis, and severe vasculopathy. Anti-Mi2 (chromodomain helicase DNA-binding protein), the only nuclear antigen in MSA, defines patients with significant photosensitivity, dysphagia, and more extensive cutaneous disease including the shawl sign and cuticle overgrowth.
Anti-synthetase antibodies (aminoacyl tRNA synthetase), anti-Jo1 (histidyl-tRNA synthetase), are associated with interstitial lung disease, fever, arthritis, so called "mechanics hands," and Sicca syndrome. Autoantibodies directed toward the other synthetases specific for alanine (anti-PL12), glycine (anti-EJ), isoleucine (anti-OJ), threonine (anti-PL7), and asparagine (anti-KS) are much more infrequently encountered. Anti-SRP (signal recognition particle) is associated with severe myositis and cardiac involvement.
Within the MSA, anti-PM-Scl, anti-Ku, anti-U1/U2 RNP and anti-Ro are more commonly seen in overlap syndromes. It is worth mentioning that with the new sensitive 52 kd and 60 kd enriched anti-Ro enzyme-linked immunosorbent assay (ELISA), up to 30% of patients with dermatomyositis may be positive, bringing up a challenge in distinguishing idiopathic or drug-induced Ro-positive lupus erythematosus from dermatomyositis (namely amyopathic/sine myositis forms), especially in the elderly population. Anti-p155 has been identified in juvenile dermatomyositis. Muscle enzymes including creatine kinase, aldolase, LDH, ALT, AST, and troponin are commonly elevated in patients with muscle weakness.
Patients with the so-called amyopathic or sine myositis lack clinical and laboratory evidence of inflammatory myopathy. Complement levels are commonly normal with the exception of patients with severe disease and/or underlying neoplasm (paraneoplastic dermatomyositis). C-reactive protein (CRP) is elevated in about half of the patients, and unlike in systemic lupus erythematosus, CRP is more reliable than erythrocyte sedimentation rate (ESR) as an acute/chronic phase reactant.
OTHER ANCILLARY STUDIES
Electromyography typically shows characteristics of inflammatory myopathy including evidence of membrane irritability, increased insertional activity, fibrillation potentials, positive sharp waves at rest, myopathic changes of motor unit action potential, decreased amplitude and duration, increased polyphasic potentials, bizarre high-frequency repetitive discharges, etc.
Magnetic resonance imaging in T2 weighted along with 31P functional magnetic resonance spectroscopy also add value in the diagnosis of inflammatory myopathy. These methods also provide a more accurate tool for imaging-guided muscle biopsies if deemed necessary. Immunopathologic examination of muscle biopsies, even in imaging-guided specimens, is quite specific but not very sensitive. For the most part, it is largely unnecessary for the initial diagnosis of patients with cutaneous disease. However, it plays an important role in patients with myositis and concomitant myopathies, drug-induced (eg, corticosteroids, statins, etc), thyroid disease, HIV, etc.
Diagnosis confirmation
As previously mentioned, the need of muscle biopsies is largely unnecessary for initial diagnosis in a photosensitive patient presenting with at least one specific dermatomyositis cutaneous sign, muscle weakness and increased muscle enzymes. However, due to the prevalence of relatively common diseases that may present with concomitant myopathies, such as thyroid disease and HIV, serologic screening for those diseases is recommended, even in dermatomyositis patients with classic musculo-cutaneous disease.
Who is at Risk for Developing this Disease?
The exact incidence of dermatomyositis is unknown. The female/male ratio is about 2:1 with the exception of the paraneoplastic variant,in which case the ratio is inverted male/female of 2:1. The peak age incidence in adults is 30 to 60 years, with a small peak in younger patients 6 to 16 years (juvenile dermatomyositis). Of note, underlying associated neoplasm (paraneoplastic dermatomyositis) has not been clearly identified in children and adolescent patients (juvenile forms). No racial predilection is clearly identified.
What is the Cause of the Disease?
Etiology
Pathophysiology
Dermatomyositis is defined as a non-organ–specific autoimmune disease primarily affecting skin, skeletal muscle, and blood vessels. The autoimmune mechanism is complex and poorly understood but involves cellular and humoral immunologic mechanisms including T cells (cytotoxic CD8, CD4 helper, etc) and autoantibodies, namely MSA and MAA and complement, namely C5b-9 (MAC). Of note, the main mechanism of action of intravenous immunoglobulin as therapeutic intervention in dermatomyositis is the blockage of C5b-9.
A genetic predisposition manifested by the presence of certain HLA haplotypes complicated with environmental factors, such as certain viral infections (eg, Parvo virus B19, Coxsackievirus, etc ) have been postulated as etiologic, at least in some dermatomyositis patients. Several HLA and genetic associations between specific subtypes of inflammatory myopathies are reported in dermatomyositis, including higher frequencies of DQB1*02 , HLA-DRB1*03, DQA1*05, protein tyrosine phosphatase and N22 gene (PTPN22).
The photosensitivity in dermatomyositis is mostly due to UVA rather than UVB. Unlike UVB, UVA is well known to be ubiquitous year round, present on cloudy days, and travels across most glass windows; the resultant sunburn is not immediate. UVA is present in most artificial lights and penetrates deeper on skin than UVB. On the other hand, UVB is responsible for the so-called sunburnt dyskeratotic keratinocytes and penetrates only to the mid/upper epidermal strata.
These characteristics of UVA may explain the usual refractory nature of the photosensitive eruption in dermatomyositis as well as the lack of significant dyskeratotic keratinocytes, abundance of upper dermal mucin (activation of upper dermal fibroblasts by UVA), pauci-inflammatory nature of the interface lymphocytic C infiltrate (blunting by UVA), and epidermal atrophy (constant insult to epidermis).
An underlying neoplasm in dermatomyositis is encountered in approximately 15% of adults. The incidence of an associated neoplasm increases with age and with male sex. Common solid tumors are the malignancies most frequently considered as paraneoplastic, with lung cancer in men and ovarian and breast carcinoma in women being overrepresented. Colorectal neoplasms are equally frequent for both sexes with paraneoplastic disease.
It was formerly thought that the amyopathic/sine myositis variant of the disease and absence of ANA were high predictors for underlying neoplasm. Further studies have proven this assertion incorrect, however, patients with amyopathic (or hypomyopathic) dermatomyositis have a similar risk of having an associated malignancy as those with the classical disease. Age older than 45 and male sex are the only demographic risk factors proven for underlying neoplasms.
Systemic Implications and Complications
In addition to underlying neoplasms, the most serious systemic complication is the inflammatory myopathy, which could lead to severe musculoskeletal weakness and respiratory complications such as diaphragmatic involvement, dysphagia with aspiration from esophageal involvement, and interstitial lung disease, namely in patients with anti-synthetase antibodies Myocardial disease, namely in patients with anti-SRP MSA, is another muscular serious life-threatening complication.
A rare complication is a small- and/or medium-sized connective tissue disease-associated vasculitis that may or may not be mediated by a cryoglobulinemia II/III mechanism, thereby possibly affecting skin and/or internal organs. Severe photosensitivity and cutaneous ulcerations from severe interface lymphocytic reaction, vasculitis, advanced dermal/subcutaneous calcification, digital infarcts from severe Raynaud's phenomenon (namely in patients with MAA and/or overlap syndrome) are also potential serious complications.
Treatment Options
--Thorough workup to exclude underlying neoplasm

--Adequate treatment of underlying neoplasm

--Aggressive photo-protection

UVA-covering physical and/or chemical sunblocks/sunscreens (3 to 4 times a day, even indoors)

UV-protecting clothing

Replacement of high UVA-containing lamps (eg, fluorescent for incandescent types)

UVA-blocking window tinting

Antimalarials (eg, hydroxychloroquine)

--Topical immunomodulators

Corticosteroids

Calcineurin inhibitors (eg, tacrolimus, pimecrolimus)

--Systemic immunomodulators/immunosuppressants

Systemic corticosteroids

Anti-proliferative: methotrexate, azathioprine, mycophenolate

Calcineurin inhibitors: cyclosporine A, tacrolimus

m-Tor inhibitors: sirolimus and everolimus

Alkylating agents: cyclophosphamide

Thalidomide and lenalidomide

--Biologics

Anti-TNF: etanercept, infliximab

Rituximab--Intravenous immunoglobulins (IVIG)

--Intravenous immunoglobulins (IVIG)
Optimal Therapeutic Approach for this Disease
Before considering any therapeutic intervention of the autoimmune disease per se, prompt and adequate diagnosis and therapy of the underlying neoplasm in the paraneoplastic variant is mandatory. Once an underlying neoplasm is thoroughly excluded, the combined therapy consisting of aggressive sun-protection and immunomodulatory/immunosuppressive therapy should be initiated.
It is well known that the photosensitivity and cutaneous lesions in dermatomyositis are the most refractory among the connective tissue diseases. This phenomenon is most likely due to the fact that UVA is the primary culprit for the aforementioned photosensitivity. As previously mentioned, UVA is ubiquitous, goes through most glasses, is present year round, on cloudy days and in most sources of artificial lights. Furthermore, unlike UVB, UVA does not induce immediate sunburn, leading to patients with dermatomyositis not to associate the sun exposure with the cutaneous flare. All of the aforementioned facts make UVA a near constant insult to the cutaneous disease in dermatomyositis.
The physician can never overemphasize the importance of aggressive sun protection in dermatomyositis patients. Frequent use, at least 3 to 4 times a day, of sunblock, UVA-protected window tinting, appropriate UV-protecting clothing, replacing high for low UVA content artificial lights, namely in the work or hobby environment, should always and constantly be emphasized.
Explaining in layman terms the physiopathology of the UVA photosensitivity would likely increase the patient compliance for these laborious sun- protecting measurements. Topical short-term (3 to 4 weeks) use of medium- and high-potency corticosteroids (clobetasol for instance) once a day in conjunction with topical calcineurin inhibitors (pimecrolimus and tacrolimus), namely in acral lesions, are somewhat effective as adjuvant therapy.
Risk-benefits, hydroxychloroquine is far the antimalarial of choice at a maximum dose of 6.5mg/kg/day (ideal/lean body weight) with once-a-year eye examination and twice-a-year after 5 years of treatment. Hydroxychloroquine is near a must in all patients with dermatomyositis, despite the small risk of cutaneous flare upon initiating therapy or the risk of drug reaction. Hydroxychloroquine takes 4 to 6 months to start showing a therapeutic benefit, which is mainly in photo protection, keeping cutaneous remission, and improving mild to moderate synovitis.
Due to the fact that systemic corticosteroid at doses of 20mg/day for more than 3 weeks commonly causes some degree of myopathy in the treatment of dermatomyositis, a disease that intrinsically caused myopathy, the tapering of the systemic corticosteroid therapy in this disease has to be done faster than in any other autoimmune disease. To do so, concomitant use of a corticosteroid-sparing immunomodulatory/immunosuppressive agent has to be initiated at the start of corticosteroid therapy.
Prednisone at doses higher than 1mg/kg/day (ideal/lean weight) are not recommended for the risk/benefit ratio. Tapering off prednisone over 4 to 8 months is ideal.
Among the antimetabolites immunomodulatory/immunosuppressive agents used in dermatomyositis, methotrexate has been traditionally mentioned. In my experience, methotrexate is not as effective as other antimetabolites like azathioprine or mycophenolate mofetil. Furthermore, methotrexate often requires some concomitant systemic corticosteroid therapy to control the disease.
Azathioprine 2 to 4mg/kg/day is effective but usually due to potentially serious side effects at higher dose ranges, a safer option such as mycophenolate mofetil 20 to 50 mg/kg/day has become the antimetabolite of choice. Antimetabolites take 2 to 3 months to start acting.
Calcineurin inhibitors including cyclosporine and tacrolimus are effective alternatives as adjuvant therapy. Due to a better safety profile, and a lower theoretical carcinogenic potential, m-Tor inhibitors including sirolimus (rapamycin) at loading oral dose of 6mg/day with maintenance of 2mg/day is becoming a very good adjuvant treatment of choice among the immunomodulatory armamentarium for the therapy of dermatomyositis.
IVIG 1 to 2g/kg/ once a month for 4 to 8 months in conjunction with the aforementioned combined therapy provides often a significant benefit for the muscular as well as the cutaneous disease, namely in patients with significant endomysial, endovascular and dermal-epidermal junction of C5b-9 (MAC).
Rituximab anti-CD20 has not provided consistent therapeutic results. The therapeutic results of anti-TNF biologic agents is equivocal at best, but cannot be recommended as there have been several cases of induction or exacerbation of dermatomyositis with etanercept or adalimumab. Thalidomide has been reported to improve the complication of inflammatory calcinosis in a 14 year old girl with juvenile dermatomyositis.
Comprehensive osteoporotic and infectious prophylaxis is critical in reducing morbidity and mortality associated with immunomodulatory/immunosuppressive therapy. Calcium, Vitamin D, biphosphonate, and hormone therapy are effective for osteoporosis.
Screening for underlying HIV, hepatitis B and C and tuberculosis is critical. Pneumocystis carinii prophylaxis as well as influenza vaccine and pneumococcal vaccine are pivotal also and should be done ideally before immunosuppressive therapy. Improvement of the inflammatory myopathy is expected within 2 to 4 and up to 6 to 8 weeks for the cutaneous disease with prednisone + adjuvant immunomodulatory/ immunosuppressant.
Most dermatomyositis patients will require 1) aggressive sun/UV protection for many years (4 to 5 years); 2) adjuvant short and intermittent topical combined therapy (corticosteroid and calcineurin inhibitor) for 6 to 24 months; 3) hydroxychloroquine for 3 to 8 years; and 4) tapering prednisone over 4 to 8 months in conjunction with sparing adjuvant immunomodulatory/immunosuppressive agent (mycophenolate mofetil or sirolimus), which will be kept for up to 2 to 3 years. IVIG should be added to the aforementioned combined therapy for 4 to 8 months in patients with severe disease.
Patient Management
Combined therapy reaches the objective of effectiveness and safety through reaching additive or synergistic effect by attacking the disease from different mechanisms and by decreasing the dose-dependent side effects by reducing the doses that otherwise would be higher if these drugs were meant to be used as sole therapy.
In highly compliant patients, aggressive photo-protection by itself accounts for the most significant response of the cutaneous disease. Explain to patients the critical role of UV, namely UVA, and its effects on the cutaneous disease; photo-protection (including or not concomitant anti-malarial therapy) should be the therapeutic cornerstone for cutaneous disease in dermatomyositis.
Patients with idiopathic (non-paraneoplastic) dermatomyositis sine myositis (amyopathic dermatomyositis) with mild to moderate cutaneous disease usually respond to the following combined therapy:
Aggressive photo-protection for minimal 3 years and

Three to four weeks' local therapy with topical corticosteroids once to twice daily in conjunction with once to twice daily topical calcineurin inhibitors and

Hydroxychloroquine with doses not higher than 6.5mg/kg/day for at least 3 years
Patients with moderate to severe cutaneous disease or patients with muscle weakness from clinically active myositis, systemic immunomodulatory/ immunosuppressive therapy should be added to the aforementioned combined regimen.
Prednisone should be tapered off ideally within 4 to 8 months with co-adjuvant therapy commenced at the same time. Osteoporosis prophylaxis with periodic bone mineral density evaluation and infectious prophylaxis are mandated. To minimize the severity of corticosteroid-induced myopathy in a patient already afflicted by an inflammatory myopathy, prednisone should be started with an adjuvant anti-proliferative agent, methotrexate or azathioprine/ mycophenolate. Azathioprine or mycophenolate mofetil provide a more efficient long-term way to tapper prednisone off.
Dermatomyositis patients with muscle weakness and receiving immunomodulatory/immunosuppressive therapy should be monitored monthly. If partial response is achieved after trying the above combined therapy, methotrexate or azathioprine/mycophenolate should be replaced by calcineurin or an m-Tor inhibitor, preferably sirolimus or everolimus because they have theoretically a better safety profile than calcineurin-inhibitors.
Adjuvant antiproliferative/antimetabolite drugs are commonly used for 1 to 3 years. An additional therapeutic synergism can be achieved by the addition of IVIG for 4 to 6 months. Thalidomide/lenalidomide and biologics have proven to be less consistent in their therapeutic effects.
Unusual Clinical Scenarios to Consider in Patient Management
Anti-proliferative/anti-metabolite agents should be avoided in women of child-bearing age if no effective contraception measurements are in place.
Due to the lack of consistent response and the potential risk of malignancy progression, exhaustive exclusion of underlying malignancy should be warranted before starting anti-TNF therapy. Sirolimus or everolimus would be preferable over other immunomodulators and immunosuppressants, due to the potential anti-carcinogenic properties of m-Tor inhibitors. Minimal or direct workup for malignancy should be done in children and adolescents with dermatomyositis due to the negligible or virtually absent risk of underlying malignancy in this age population.
Thalidomide/lenalidomide may play an important role in the unusual form of connective tissue disease-associated panniculitis that can occasionally be seen in some dermatomyositis patients.
What is the Evidence?
Nousari, HC, Ha, VT, Laman, SD, Provost, TP, Tausk, FA. "Centripetal flagellate erythema, a cutaneous manifestation associated with dermatomyositis". J Rheumatol. vol. 26. 1999. pp. 692-5.
(Report of three cases demonstrating that centripetal flagellate dermatomyositis is characteristic of dermatomyositis versus other connective tissue diseases.)
Kimyai-Asadi, A, Tausk, FA, Nousari, CH. "A patient with dermatomyositis and linear streaks on the back. Centripetal flagellate erythema (CFE) associated with dermatomyositis". Arch Dermatol. vol. 136. 2000. pp. 670.
(Another case of centripetal flagellate erythema associated with dermatomyositis.)
Mascaró, JM, Hausmann, G, Herrero, C, Grau, JM, Cid, MC, Palou, J. "Membrane attack complex deposits in cutaneous lesions of dermatomyositis". Arch Dermatol. vol. 131. 1995. pp. 1386-92.
(Report comparing 22 biopsy specimens from lesional skin, 6 uninvolved skin and 12 muscle biopsies in specimens from dermatomyositis patients looking at membrane attack complex (MAC). Deposits were particularly found along the dermoepidermal junction in 86% of the patients in involved skin. Thus the complement system may be vital in pathogenesis.)
Magro, CM, Crowson, AN. "The immunofluorescent profile of dermatomyositis: a comparative study with lupus erythematosus". J Cutan Pathol. vol. 24. 1997. pp. 543-52.
(Lesional skin from 24 patients with dermatomyositis was analyzedfor immunofluorescence findings. The IF profile of DM in lesional skin shows a negative lupus band test, deposition of C5b-9 within vessels and along the dermoepidermal junction, and variable keratinocyte "decoration" for IgG and C5b-9.)
Fardet, L, Dupuy, A, Gain, M, Kettaneh, A, Chérin, P, Bachelez, H. "Factors associated with underlying malignancy in a retrospective cohort of 121 patients with dermatomyositis". Medicine (Baltimore). vol. 88. 2009. pp. 91-7.
(Analysis of 121 patients with dermatomyositis and looking for malignancy association incidence rate. Incidence rate was 21 +/-4% and 28 +/-5% for 1 and 5 years after the diagnosis of DM. Risk factors included age greater than 52; rapid onset of skin and muscle symptoms; presence of skin necrosis; periungual erythema; low baseline complement factor C4. Low baseline lymphocytic factor was protective factor for malignancy.)
Chen, YJ, Wu, CY, Shen, JL. "Predicting factors of malignancy in dermatomyositis and polymyositis: a case-control study". Br J Dermatol. vol. 144. 2001. pp. 825-31.
(Another study looking at predictive factors for malignancy in DM. Older age of onset (>45 years old) and male gender were the two risk factors noted. Nasopharyngeal carcinomas were the most common tumors in this cohort. Patients with interstitial lung disease had a significantly lower frequency of malignancy.)
Ritchie, SA, Kobayashi, T, Sperling, L. "Amyopathic necrotizing dermatomyositis secondary to an underlying malignancy: a case report and review of the literature". Cutis. vol. 82. 2008. pp. 407-13.
(Case demonstrating that necrotic skin lesions may be an indicator of internal malignancy even in the setting of amyopathic dermatomyositis.
Basta, M, Dalakas, MC. "High-dose intravenous immunoglobulin exerts its beneficial effect in patients with dermatomyositis by blocking endomysial deposition of activated complement fragments". J Clin Invest. vol. 94. 1994. pp. 1729-35.
(A look at 13 patients with dermatomyositis and 5 control non-complement-mediated neuromuscular diseases that demonstrated evidence that IVIG modulates complement attack in human disease.)
Gelber, AC, Nousari, HC, Wigley, FM. "Mycophenolate mofetil in the treatment of severe skin manifestations of dermatomyositis: a series of 4 cases". J Rheumatol. vol. 27. 2000. pp. 1542-5.
(Report of four cases when mycophenolate mofetil was relatively new that demonstrated efficacy and allowed for decrease in steroid dose.)
Fiorentino, DF, Chung, L, Zwerner, J, Rosen, A, Casciola-Rosen, L. "The mucocutaneous and systemic phenotype of dermatomyositis patients with antibodies to MDA5 (CADM-140): A retrospective study". J Am Acad Dermatol. vol. 65. 2011. pp. 25-34.
(Study looking at 77 patients' sera in an outpatient setting looking at melanoma differentiation-associated gene 5, which has been identified as DM-specific autoantigen. The authors suggest that the patients with MDA5 reactivity in DM are a population with severe vasculopathy.)
Klein, R, Rosenbach, M, Kim, EJ, Kim, B, Werth, VP, Dunham, J. "Tumor necrosis factor inhibitor-associated dermatomyositis". Arch Dermatol. vol. 146. 2010. pp. 780-4.
(A case series of four patients with dermatomyositis either induced or exacerbated by either etanercept or adalimumab. Symptoms in these patients continued after the discontinuation of the TNF-inhibitors, but responded to the use of corticosteroids and other immunosuppressive agents.)
No sponsor or advertiser has participated in, approved or paid for the content provided by Decision Support in Medicine LLC. The Licensed Content is the property of and copyrighted by DSM.
Sign Up for Free e-newsletters
Check out what's trending