October 27, 2015
Lower Cholesterol Could Reduce Genetic Risk For Alzheimer's
the Psychiatry Advisor take:
Lifestyle changes that reduce cholesterol could reduce the risk of Alzheimer's disease, especially with the presence of the ApoE4 genetic risk factor.
For the Network Aging Research (NAR) study, Hermann Brenner, MD, NAR's director and professor of epidemiology at the University of Heidelberg, Germany, and colleagues analyzed blood samples and medical data from two previous studies, the ESTHER study with 1434 participants, and the KAROLA study with 366 participants, to examine the relationship between the ApoE4 genetic risk factor and cognitive deficits.
The ApoE4 genetic risk factor comes from a variant of apolipoprotein E, a protein that plays a critical role in metabolizing blood lipids. One of its functions is to transport cholesterol to nerve cells so they can use them for exchanging signals. The ApoE gene, which contains the blueprint for the protein, has 3 different alleles. Those with the E4 allele are at risk for developing Alzheimer's.
However, the researchers found that the relationship between the ApoE genetic risk factor and memory problems was strongest in those with high cholesterol and heart disease.
The relationship between these factors is complex. The ApoE4 allele increases the risk of Alzheimer's and is also associated with arteriosclerosis, a narrowing of the arteries due to fatty deposits. This can cause serious cardiac problems and contributes to the development of dementia. Arteriosclerosis is also caused by "bad" cholesterol, which is independently a risk factor for Alzheimer's.
The researchers emphasize that regular exercise and a healthy diet can keep cholesterol down, reducing the risk of Alzheimer's and these other conditions. "What's good for the heart is also good for the brain and memory. This appears to be especially important for carriers of the ApoE4 risk factor," said Dr. Brenner.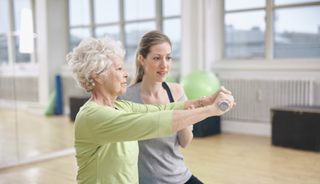 Those with the ApoE4 genetic risk factor for Alzheimer's can reduce their risk with healthy lifestyle choices.
Changes in lifestyle could reduce the risk of developing Alzheimer's disease. That was the conclusion of a study conducted by researchers of Heidelberg University's Network Aging Research (NAR), who examined the data from two independent epidemiological studies.
Carriers of the ApoE4 genetic risk factor for Alzheimer's may be able to reduce their increased risk of cognitive decline by reducing their cholesterol level, especially if they also suffer from cardiovascular disease. In Germany, approximately 20 percent of the population carries the ApoE4 risk factor. The results of the research were published in "Dementia and Geriatric Cognitive Disorders."
Loading links....
Sign Up for Free e-newsletters
Check out what's trending